About 100 pro-Palestinian protesters blockaded the port of Tacoma, Washington, on Monday morning in an effort to stop the passage of a ship they say is bound for Israel with U.S.-supplied weapons for the fight against the Palestinian terror group Hamas.
The demonstration is a continuation of efforts in Oakland over the weekend that saw anti-Israel activists attempting to scale the ship, the Cape Orlando, and several arrests.
Local CBS affiliate KIRO-7 reported:
At least 100 pro-Palestinian demonstrators are blocking the entrance to the Port of Tacoma early Monday.

…

They're trying to delay the US military supply ship Cape Orlando that's bound for Israel.

"Confidential sources say that the vessel will be loaded with weapons and military equipment in Tacoma, with a final destination in Israel," a news release from the Arab Resource & Organizing Center (AROC) said.
On Friday, the San Francisco Chronicle reported:
In a dramatic demonstration against Israel's military actions in Gaza, protesters stormed a large U.S. military ship at the Port of Oakland on Friday.

At least three people scaled the Cape Orlando and held on to the ladder to prevent the ship from leaving the dock.
Elsewhere in the Bay Area, thousands of anti-Israel protesters marched in San Francisco to demand a ceasefire in the war, which Hamas started on October 7 in a terror attack that killed over 1,400 people in Israel, most of them civilians.
They carried genocidal signs that called for the elimination of Israel — "from the river to the sea" — and shouted Islamic fundamentalist slogans such as "Allahu Akbar."
One carried a sign reading "75 years of genocide," opposing the very existence of Israel — which was authorized by the United Nations in a 1947 partition resolution, but was attacked immediately by surrounding Arab states upon declaring independence.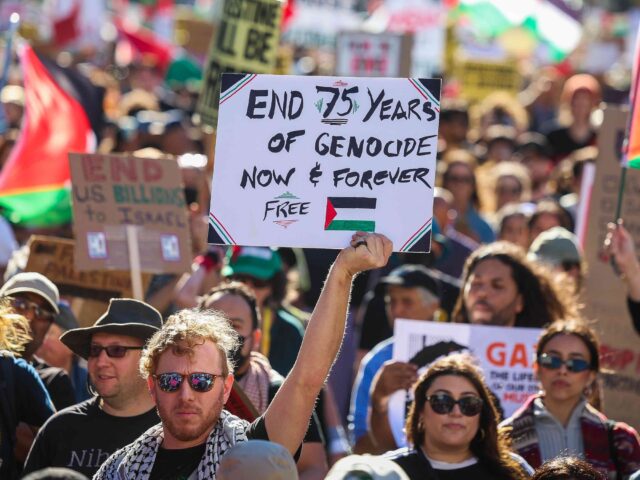 The Chronicle reported:
The crowd cheered when speakers called for support for Gazans and booed at the mention of President Joe Biden. Some speakers equated Israel's attacks with genocide.

…

As the marchers turned south on Sixth Street on the way to Mission Street, customers at the Gai Chicken Rice restaurant appeared surprised, many erupting into laughter.

…

Then [a] girl led the crowd, shouting, "Takbir," or "God help us" in Arabic. The crowd roared back in response, "Allahu akbar," or "God is great."
In Los Angeles, hundreds of pro-Palestinian demonstrators marched outside the Israeli consulate on Saturday, demanding a ceasefire in Gaza and waving signs with slogans such as, "Is (not) Rael" and "Israel bombs hospitals, Biden pays for it," according to media reports and photos of the event.
As the Los Angeles Times reported, demonstrators carried signs calling to "Renew the Intifada," a message that mimics recent pro-Palestinian protests in other U.S. cities, such as the massive march in Washington, DC, on Saturday, where participants shouted, "Long live the intifada." The most recent intifada lasted from 2000 to roughly 2005 and involved terror attacks that killed over 1,000 Israelis, most of them civilians.
Students in Seattle, Washington, held a protest last month, where they chanted, "There is only one solution. Intifada Revolution." Pro-Palestinian demonstrators also called for intifada on Israel during a protest in London last week, where an estimated 100,000 anti-Israel protesters flooded the streets.
BREAKING | A massive Pro-Palestine protest is now ongoing in Downtown Los Angeles, California demanding a ceasefire in the conflict with Israel.

📷 rosianothetrainer/instagram pic.twitter.com/eWlDQ293DN

— READY ALERTS (@ReadyAlerts) November 5, 2023
Some protests began after October 7, even before Israel had begun to respond. But protests around the world were intensified by fake reports that Israel had bombed the Ahli Baptist Hospital in Gaza City on October 17. That created a frenzy among U.S. media and left-wing politicians, who rushed to blame Israeli troops for the blast. The claim was quickly debunked by Israel and U.S intelligence, who confirmed that Palestinian terrorists had in fact accidentally hit the hospital, as Breitbart News reported.
WATCH — Dem Rep. Moskowitz: Antisemitic Display from Media on Hospital Blast "Caused Riots":
The protests came as U.S. Secretary of State Antony Blinken met with Palestinian Authority (PA) President Mahmoud Abbas in the Palestinian city of Ramallah on Sunday to urge Abbas that the PA should play a "central role" in the Gaza Strip's future if and when Israel's goal of dislodging Hamas is fulfilled, Breitbart News reported.
Abbas said the PA would only assume power in Gaza as part of a "comprehensive political solution" to the Israeli-Palestinian conflict, and the meeting between the two leaders "ended by posing more questions than it answered about the Gaza Strip's future," Breitbart News concluded.