This week we were filled with joy as a cat who lost both eyes was adopted and were heartbroken to see a dog that was dumped outside a rescue facility in a sealed box.
Besides the viral pet stories, we've been putting together our Newsweek Pet of the Week lineup from our reader's pet pictures and videos.
If you want your pet to be part of next week's lineup, follow the instructions at the end of this story.
The Winner
This week our winner is Sheba, a 1-year-old dog who was caught on camera hilariously playing with a traffic cone in the backyard, even getting it stuck on her head.
Owner Helen Maez, who lives in California, sent the video in and told Newsweek that her Dutch shepherd mix dog loves to play with all sorts of toys.
"She loves these traffic cones, all sizes too," she said, laughing. "Too funny."
Dogs playing is always a source of entertainment, like the clip of a pup playing peekaboo with a baby or the hilarious moment a dad took things "too far" when playing with his puppies.
The Finalists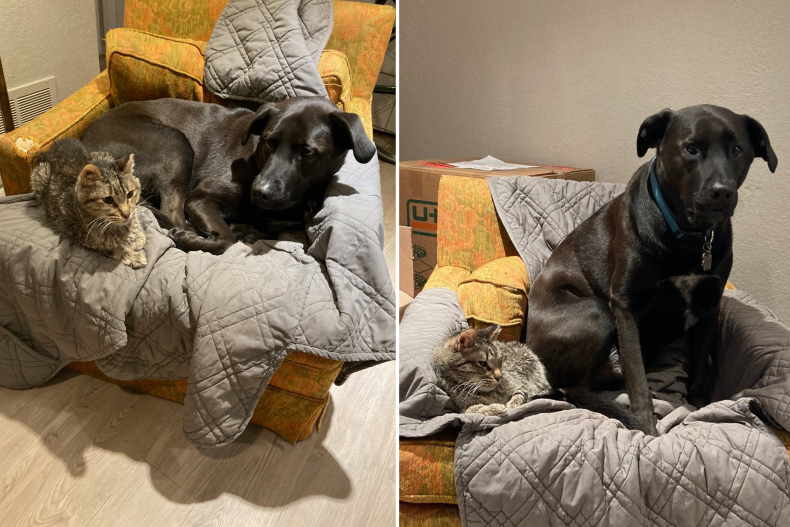 Our first finalists this week are Buddy and Scout. Buddy the dog and his friend Scout the cat were often seen snuggled up together in the garage.
"We got Buddy from Austin Pets Alive," owner Steve Koran told Newsweek. "Scout, on the other hand, was a stray who wandered into our garage one hot summer day.
"He had a chip, but his previous owners seemed to have moved away and abandoned him. He was very friendly, but our current cat, Lucky, didn't want anything to do with him. So, since we have a two-story home, Scout became the downstairs cat," said Koran.
Buddy and Scout would often cuddle together, but sadly Scout has since died.
"We can tell that Buddy misses him. So my wife, Janet, and I try to spend more time with him and take him for long walks," Koran said.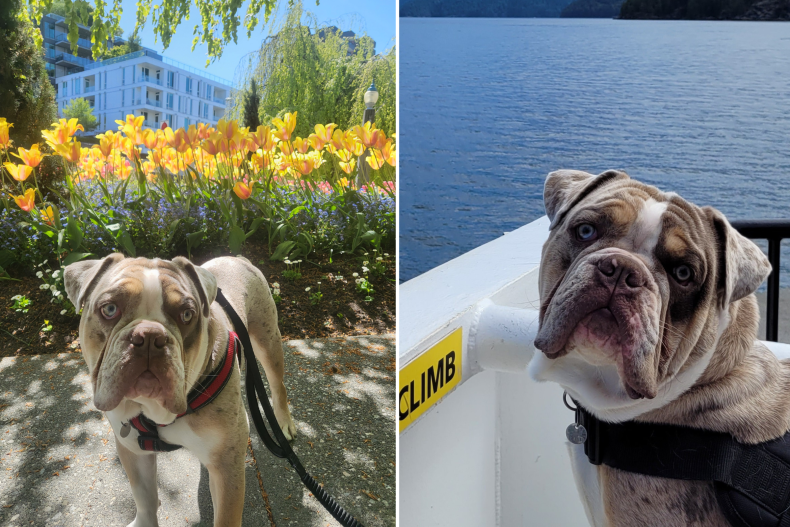 Our next finalist this week is Fergus, a 1-year-old bulldog who lives in British Columbia, Canada.
"He is loving, sweet and gentle, but most of all he's the happiest little guy around who brings joy to everyone he meets," owner Darren Furano told Newsweek.
Fergus has lived with the family since he was around 18 weeks old.
"Our favorite thing about him is that he just lifts your mood at every interaction," said Furano. "His favorite things are fresh beef, cuddling and play-wrestling on our bed."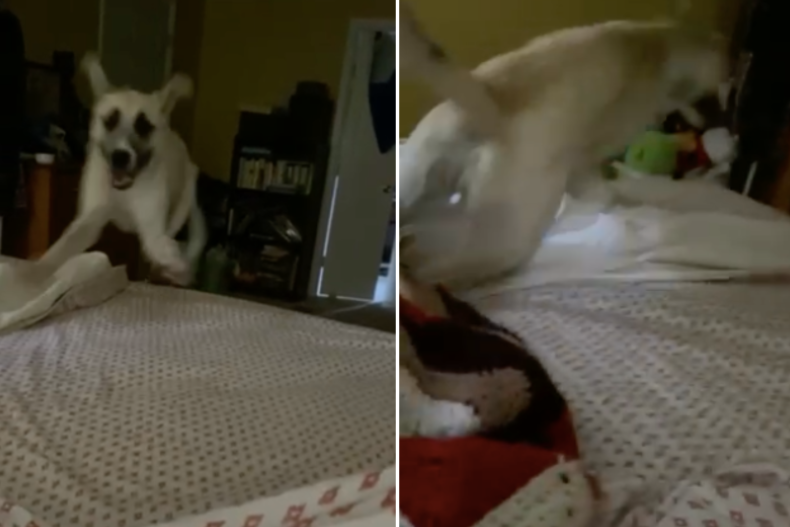 Last but not least this week is Zelda, an 8-month-old puppy who lives in Kentucky.
"Zelda is a rescue from the Humane Society of Oldham County and went through their Camp K9 program," owner Amy Hunt told Newsweek. "It's a program at some nearby state prisons where inmates train and care for dogs that are then put up for adoption. It is a wonderful program for everyone involved."
Now living full time with his new owner, Zelda often has some serious zoomies—especially with the current weather.
"With the heat and humidity, it is hard to safely play and exercise outside much, so she has some pent-up energy," said Hunt.
Do you have funny and adorable videos or pictures of your pet you want to share? Send them to life@newsweek.com with some details about your best friend and they could appear in our Pet of the Week lineup.