A Texas county attorney is opening up on her decision to leave the Democrat Party and fears she would be called a "traitor" due to her Hispanic heritage.
Kleberg County, Texas Attorney Kira Talip Sanchez joined "Fox & Friends" Monday after announcing she was switching to the Republican Party, citing the border crisis as a key issue in her decision.
"In recent years, I feel like my former party has moved further left and it's no longer aligned with my values," Talip told the show.
BORDER PATROL SECTORS NEAR OR OVER CAPACITY AS MIGRANT NUMBERS SURGE AT THE BORDER
Sanchez confirmed the political party switch Saturday in a release to Fox News Digital. She addressed the Hispanic Republicans of Texas PAC at their 2024 election season kickoff event, citing the border crisis and law enforcement.
"As County Attorney, I have been proud to work with law enforcement to ensure the safety of the citizens of Kleberg County," Sanchez said in a statement. "There is an unprecedented crisis at our southern border. I believe that the GOP's policies of law and order protecting safety, and backing the blue best align with my values and the values of the citizens of Kleberg County."
Sanchez, whose parents are Mexican immigrants, told Fox News Monday she was raised with conservative values.
 "As a Hispanic, we were told, you know, 'Hispanics are Democrats,' and that is not really the case. I feel like a lot of Hispanic Americans are Republican, and they don't even know it," she said.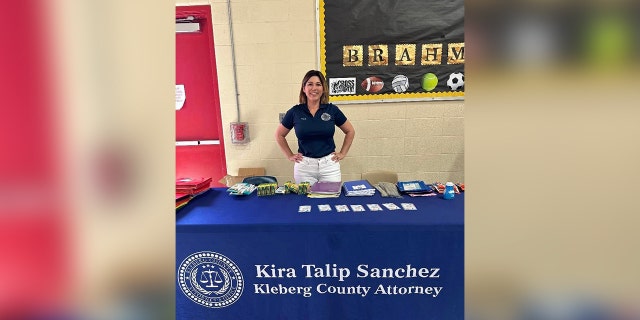 "I was nervous to be called a traitor," she continued. "You know, 'You're Hispanic, why are you why are you Republican?' But I feel very comfortable in switching. I feel like I feel like I'm at home and this is where I belong."
BIDEN QUIETLY AUCTIONS OFF BORDER WALL PARTS TO STUNT REPUBLICAN EFFORT TO RESTART CONSTRUCTION: REPORT
Kleberg County is located in southern Texas and borders the Gulf of Mexico.
Sanchez's role includes running the Specialized Crimes and Narcotics Task Force, which proactively targets criminals engaged in trafficking weapons, drugs, persons and currency.
After working alongside Border Patrol and Operation Lone Star, Sanchez said she witnessed firsthand the crisis at the southern border swell into a "big problem."
On Friday, Customs and Border Protection (CBP) reported that there were 183,503 migrant encounters at the southern border in July – a steep increase from the 144,566 seen in June.
In a statement obtained by Fox News Digital, Hispanic Republicans of Texas President Cassy Garcia said that she was "excited" to continue her outreach to Democratic voters across the Lone Star State.
While Kleberg County historically leaned blue, the county voted for former President George W. Bush in 2000 and 2004, and narrowly voted for former President Donald Trump in 2020.
Sanchez noted her position is non political and her job is to "follow the law and prosecute."
"We have a great team and our goal is to keep our community safe," she concluded.
For more Culture, Media, Education, Opinion, and channel coverage, visit foxnews.com/media
Fox News' Andrea Vacchiano contributed to this report.