Less than two weeks after returning from Ireland, President Joe Biden appeared to forget it was the last country he visited, until he was reminded by a child on Thursday.
Biden visited Ireland in mid-April to celebrate the 25th anniversary of the Good Friday Agreement of 1998, which formally ended decades of violent conflict between Irish Protestants and Catholics. While Biden spent much of the trip talking about his family and America's connections to the nation across the Atlantic, the visit seemed to temporarily escape his memory soon after
"What was the last country you traveled to?" one child asked Biden during a Take Your Child to Work Day event at the White House.
"The last country I've traveled — I'm trying to think the last one I was in — I, I've been to 89 — I've met with 89 heads of state so far, so, uh — I'm trying to think. What was the last — Where was the last place I was? It's hard to keep track. Um, I was — " Biden stammered.
BIDEN BLUNDERS: PRESIDENT STUMBLES HIS WAY THROUGH GAFFE-FILLED WINTER
"Ireland!" another child yelled in reply.
"Yeah, you're right, Ireland," Biden said. "That's where it was. How'd you know that?"
Commentators across Twitter both laughed at the clip and lamented the state of the American presidency.
"Today, Biden forgot the last foreign country he visited as president. It was Ireland. Week before last," Rep. Darrell Issa, R-Calif., tweeted. "And he wants four more years?"
Washington Secrets Columnist Paul Bedard referred to Biden's widely mocked joke about wanting to stay in Ireland. 
"He loved Ireland so much, he said he was staying…and he already forgot? 'I'm not going home. I'm staying here,'" Bedard wrote.
"Cognitively unfit by a mile," professional golfer Steve Flesch wrote. "This is disgraceful and why no country respects America right now."
"Biden was in Ireland two weeks ago," author Jim Rickards wrote. "When asked about it by a child today, Biden couldn't recall where he was. Another child helped out by shouting, 'Ireland!' Maybe that child would make a more competent president."
Writer Doug Powers quipped, "Kid should have yelled 'China' just to see how Biden would react."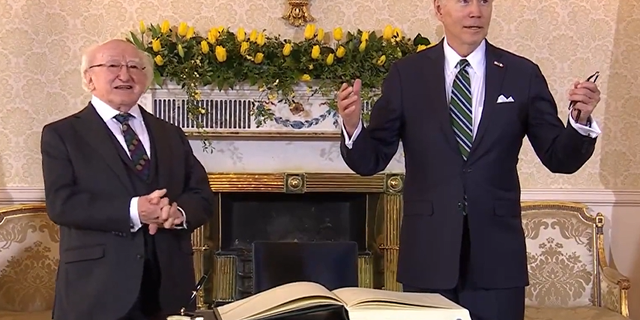 BIDEN GAFFES: THE PRESIDENT BATS .500 IN JANUARY, A SLIP UP EVERY OTHER DAY
Other commentators joked about Biden's track record with being questioned by the press, only a day after the president was caught holding a cheat sheet that appeared to show a reporter's question.
"Check the cards Joe. I'm sure there's a map of Ireland on there with the kids question," The account representing Live from Studio 6B joked.
"It's Biden's first 2024 campaign rally at the White House, and he's being bombarded by kids with random questions about foreign policy," Meteorologist Ryan Maue joked. "Tough crowd!"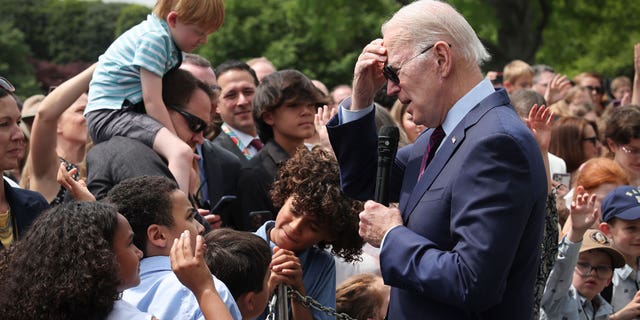 CLICK HERE TO GET THE FOX NEWS APP 
Commentator Kate Hyde wrote, "The administration works SO HARD to keep Biden away from the press and thinks kids are safe to talk to but, as we saw in Ireland, kids show Biden's incompetence better than anyone."
"These kids are doing the job journalists could be doing… For free!" National Review contributor Pradheep J. Shanker tweeted.