Pro-Palestinian protests have broken out across the U.S. after Saturday's deadly Hamas attacks on Israeli towns and residents led to Prime Minister Benjamin Netanyahu saying the country was at war with the paramilitary group.
Early on Saturday, Hamas fired thousands of rockets from Gaza into Israel, while its fighters launched incursions into Israeli border towns, killing and kidnapping residents celebrating the Jewish holiday of Simchat Torah. Authorities confirmed that at least 700 Israelis had been killed and about 100 kidnapped by Hamas as of Monday morning.
Israel's retaliation, which Netanyahu has described as the beginning of a "long and difficult war," has already killed more than 400 Palestinians and injured about 2,000, according to the latest estimates.
The biggest protest started in New York City, where more than a thousand pro-Palestinian demonstrators, according to media reports, rallied in Times Square on Sunday and through Midtown Manhattan to call for an end of the Israeli occupation of Palestine. On the other hand, a couple of dozen Israeli supporters waved the country's flag and condemned Hamas as a terrorist group.
The protest, which wasn't joined by any lawmaker or New York politicians, caused division among the Democratic Party and sparked condemnation from Republicans, as demonstrators reportedly chanted slogans like "Resistance is justified when people are occupied."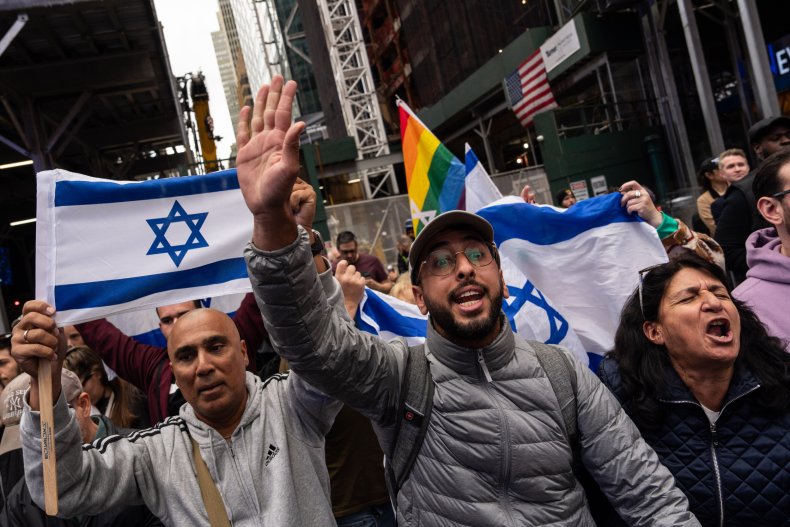 New York Democratic Rep. Ritchie Torres wrote on X, formerly known as Twitter, that the protest was glorifying Hamas violence against Israel.
"The NYC-DSA [New York City Democratic Socialists of America] is revealing itself for what it truly is: an antisemitic stain on the soul of America's largest city," he said. "There is a special place in hell for those who glorify the cold-blooded murder of civilians and children."
As scrutiny has grown over the response of progressive Democrats who have previously been critical of Israel, Republican Rep. Mike Lawler of New York wrote to Alexandria Ocasio-Cortez: "Do you agree with these lunatics? Yesterday's terrorist attack perpetrated by Hamas and sponsored by Iran is the fault of Israel? You should denounce this if you don't agree with it."
Ocasio-Cortez, who has condemned the Hamas attack and called for an immediate cease-fire and an end to the violence in Gaza and Israel, hasn't commented on the New York protest.
Chicago, Atlanta and San Francisco also saw pro-Palestinian protests in the aftermath of the Hamas attack, as people gathered in front of the Israeli consulates in the two cities. In Atlanta, about 75 people attended the event, the Associated Press wrote, calling for an end to U.S. aid to Israel.
"We're here because we think everyone in the United States is funding Israeli apartheid," Natalie Villasana, a member of the Party for Socialism and Liberation, told the outlet.
In Chicago, hundreds of people were reported joining the protest in front of the Israeli consulate waving the Palestinian flag and wearing a keffiyeh, the checkered scarf often worn in solidarity with the country. Hundreds gathered in San Francisco to call for Palestine's freedom, clashing with pro-Israeli supporters.
There were also pro-Israeli demonstrations across the country.
In a San Francisco synagogue, Democrats Nancy Pelosi and city mayor London Breed joined a Jewish community gathering in support of the country.