The Princess of Wales was overheard calling her youngest son an endearing nickname on bank holiday Monday.
The Prince and Princess of Wales were joined by their three children Prince George, nine, Princess Charlotte, eight, and Prince Louis, five, at a Scouts event in Slough, Berkshire, to mark the Big Help Out.
Following the official coronation ceremony on Saturday and the concert on Sunday, the British public were encouraged to get stuck in with local volunteering events as part of a lasting legacy of the crowning of King Charles III.
And the youngest royals weren't afraid to roll up their sleeves and help out too, with the renovation of a Scout hut site.
Eager to try everything from shovelling sand to painting a planter base and wheeling a barrow, Prince Louis ended the day splashed with paint but got his reward – a marshmallow-and-chocolate biscuit sandwich, which he was utterly delighted with. (As any five-year-old would be!)
While his youngest tucked into the tasty treat, Prince William smiled and said: "You won't hear a peep out of him now for about 20 minutes."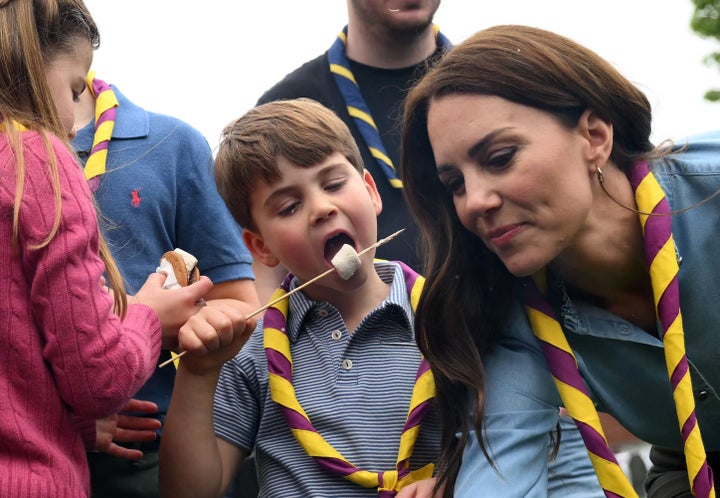 What else did they get up to?
In short: they were incredibly busy!
Louis was given the chance to drive a digger himself, while sat on his dad's lap, and asked "What does this one do?" as he pulled a lever.
He wasn't phased at all when the digger lurched back slightly and was encouraged by his dad, who said "Keep going Louis, that's it".
Later, the five-year-old prince was given the task of filling a wheelbarrow with builders' sand and he focused on the job, diligently shovelling the material before wheeling the barrow himself.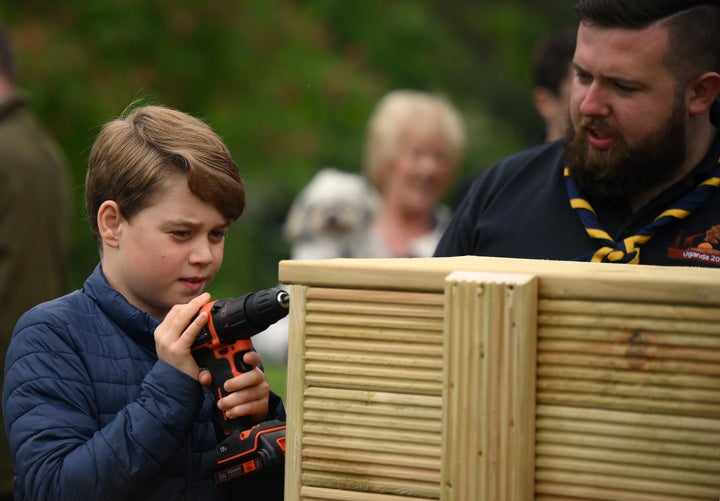 Louis and Charlotte painted the brick base of a planter with masonry paint and as the young prince sploshed it about, his sister told him: "You've got paint in your hair! Louis, look at me! Look at me!"
The five-year-old carried on regardless and his sister added: "You've got to wipe it."
One volunteer asked Louis: "You might want to be a painter when you grow up?" To which Louis replied: "No, a fighter pilot."
Meanwhile, George was given a drill to use – under adult observation, of course – and screwed wooden planters together.
His dad also assembled the boxes – at the end, William quipped they would have to "clean up my mess" but was told he had done a "good job".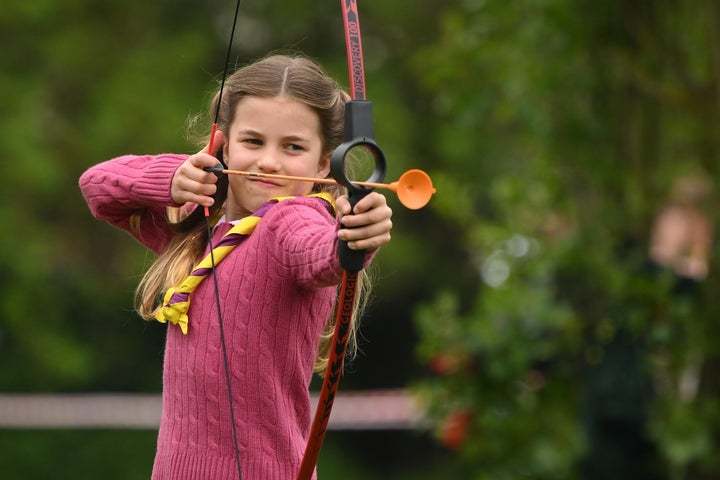 The children were also invited to try their hand at archery.
While the King and Queen had a quiet day away from the public eye after Sunday evening's concert, other royals joined in the Big Help Out.
The Duke and Duchess of Edinburgh (Edward and Sophie) helped at a puppy class for trainee Guide Dogs in Reading, while the Princess Royal (Anne) attended a County Civic Service recognising local volunteers in Gloucester Cathedral.