Nine people were arrested after protesters delayed the start of the Grand National on Saturday by getting onto the racecourse at Aintree.
Merseyside Police said "a large number of protesters attempted to gain entry" to the course just after 17:00 BST.
While the "majority" were stopped, nine managed to enter the track and were later arrested by officers, they added.
The race started at 17:29 after having been scheduled to begin at 17:15.
The 175th edition was won by Corach Rambler, ridden by Derek Fox.
Television pictures appeared to show some protesters making it onto the track and trying to attach themselves to a fence, before being removed by police.
Others attempted to climb over or glue themselves to security fencing around the track but were led away, with police also confiscating ladders.
After a delay was announced on the racecourse public address system, the 39 participating horses were taken back to the pre-parade ring.
The jockeys were asked to re-mount their rides six minutes after the scheduled start time, with the race starting eight minutes later.
"We can confirm that nine people have been arrested at Aintree Racecourse today (Saturday 15 April)," Merseyside Police said.
"Just after 5pm a large number of protesters attempted to gain entry on to the course.
"The majority were prevented from breaching the boundary fencing but the nine individuals who managed to enter the course were later arrested by officers."
Three people were earlier arrested in connection with potential co-ordinated disruption activities.
A 25-year-old woman from London and a man were arrested outside Aintree on suspicion of conspiracy to cause public nuisance.
A 33-year-old woman from the London area was arrested in Greater Manchester on suspicion of the same offence.
Earlier, a spokesperson for Merseyside Police said: "We are continuing to work with The Jockey Club and other partners to keep people safe during the Grand National Festival.
"We are aware of some people planning to protest at the event. This has been factored into our plans.
"We respect the right to peaceful protest and expression of views, but criminal behaviour and disorder will not be tolerated and will be dealt with robustly."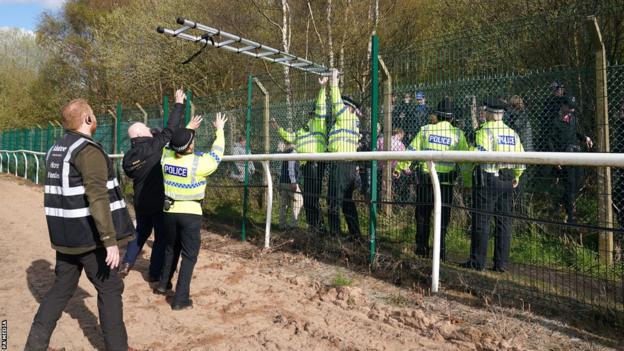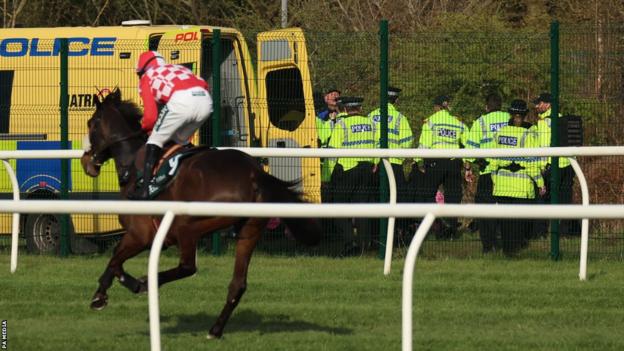 More to follow.