Some Democrats are warning their party that how New York leadership is handling the influx of migrants could backfire and be a "disaster" for their party in the next election.
New York City Mayor Eric Adams and New York Governor Kathy Hochul have been publicly feuding this week over how each has managed the migrant crisis which is stretching city resources. Over 100,000 migrants have been provided shelter and services in NYC since last spring, Mayor Adams' office has reported.
Worried Democrats told the New York Times that if party leaders fail to fix the crisis, it will cost them dearly in the next election, after the party lost four House seats on Long Island and in the Hudson Valley to Republicans in the 2022 midterms.
"It's just a question of when this all sort of explodes," Democratic political consultant Charlie King, a former lieutenant governor candidate, told the paper. "I just don't know how long you can evade this, and I don't know that it gets better in the next 18 to 24 months."
LONG ISLAND LEADER REFUSES TO LET NYC MOVE MIGRANTS INTO FORMER NHL ARENA
Democratic strategist Howard Wolfson, a former political adviser to Mayor Michael Bloomberg, feared the issue was a "ticking time bomb," and the strategy of busing migrants to surrounding cities in the state could backfire for them politically.
"There is no question in my mind that the politics of this is a disaster to Democrats," he told the Times.
"This issue alone has the potential to cost Democrats the House, because it is such a huge issue in New York City and the coverage of it is clearly heard and seen by voters in all of these swing districts in the suburbs," he added.
"Moving more migrants outside New York City is bound to spark divisive flare-ups in the suburbs and more conservative parts of the state, fueling attacks from national Republicans who have already harnessed the situation as an election issue talking point and to boost fund-raising," the Times reported.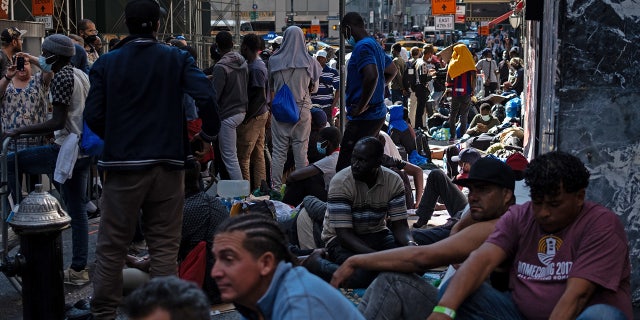 NEW YORK GOV. KATHY HOCHUL SLAMS MAYOR ADAMS' MIGRANT RESPONSE IN 12-PAGE LETTER
The report also highlighted criticism from Democrats warning Hochul she was not being aggressive enough in relieving NYC of the burden caused by the influx of migrants.
Joshua Goldfein, a staff attorney at the Legal Aid Society, told the Times that Hochul needed to take aggressive action, like previous Governor Andrew Cuomo would've done, by imposing a statewide policy on the issue.
"She could take charge of the situation and limit the ability of local governments to create their own policy around migrant issues," Goldfein told the Times. 
Dozens of New York counties have tried to stop Mayor Adams from housing asylum seekers in their towns, pointing to security issues caused by migrants who commit crimes. 
Adams responded to this pushback by calling on Hochul to issue an executive order blocking these localities from passing ordinances banning migrant housing from being constructed in their regions.
In June, Adams filed a lawsuit against 30 New York counties that had passed local executive orders intended to stop the city from placing migrants in their jurisdictions.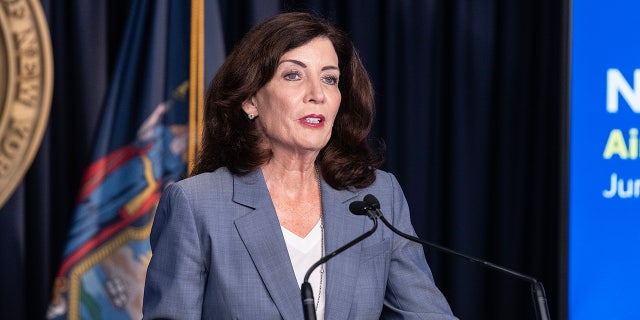 Gov. Hochul's office has argued the city is better equipped to handle the migrant influx because of a "unique legal requirement to house anyone in need of a bed," the Times reported.
Avi Small, a spokesman for the governor, told the paper that the solution was to give migrants legal jobs not bus them out of the city "against their will."
Lawyers with Gov. Hochul's office also reminded Adams the state had given nearly $1.5 billion in aid to the city and would continue to provide financial support.
Both leaders have blamed the Biden administration for not doing enough to help with crisis, calling it a national problem.
"The migrant crisis has been extremely costly and will continue to require significant financial resources," Hochul's lawyers wrote in a letter to Adams this week. "Neither the City nor the State should have to absorb these operational needs or costs for what is a matter of federal concern."
CLICK HERE TO GET THE FOX NEWS APP
Fox News' Chris Pandolfo and Bradford Betz contributed to this report.
For more Culture, Media, Education, Opinion, and channel coverage, visit foxnews.com/media