The Harry Potter actor made another appearance on the ITV daytime show, and had viewers howling with her unique brand of chaos as she joined presenters Holly Willoughby and Josie Gibson.
Once again, Miriam was asked to play agony aunt during the show's phone-in, giving life advice to fans on a range of topics.
But this being Miriam, it wasn't long until she'd sworn live on air.
She mouthed an expletive before saying the word "shit", prompting a giggling Holly and Josie to apologise.
Miriam also seemingly made a reference to the backlash Holly faced in the wake of Phillip Schofield's shock departure from the show earlier this year, remarking: "When people were at you, it must have been ghastly!"
When she later joined Holly and Josie on the sofa for an interview to promote her new book, Miriam dropped another clanger as she said: "My friends say I haven't changed but I've always been as naughty and outspoken as I am now.
"What I have learnt is to be kind. Otherwise I'm sort of perfect really. I'm 82, I fart a lot, piss a lot, but I'm still going," which drew more laughter.
Miriam then went on to discuss the benefits of sex, telling Holly she must be "at it all the time", before going on to explain how steaming her genitalia had "awoken" something in her.
She said: "I've just come back from Australia and I went to rather curious a rocker place called Nimbin, and it's great fun and I steamed my yoni… it's your front bottom.
"It did me a world of good, that's all I can say. It was very nice. You just put a big saucepan of mint, boil it and put it in the commode, spread your legs and your other bits, and it's lovely. It's very comforting.
"It's peaceful and pleasant, and I think it awakened something that had been rather slumbering."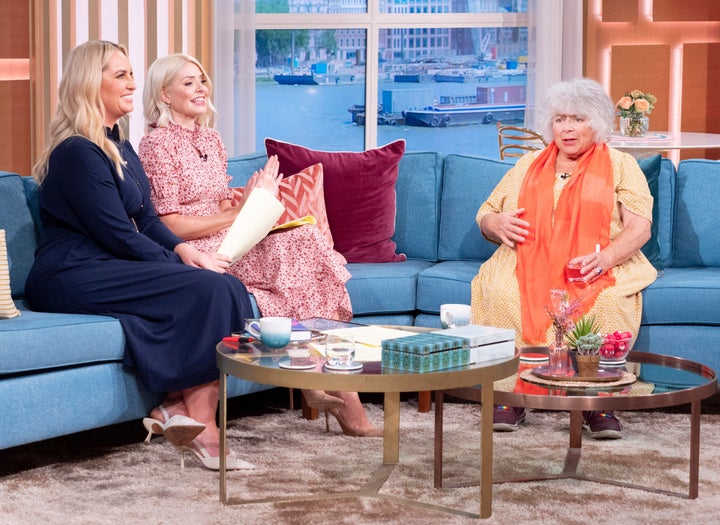 She added: "On the whole, sex is not for me now. I like to remember it, talk about it, advise about it, but it's not all there is in life."
However, the hilarity continued after the show went off air, as Holly later shared some footage of them trying to film a segment for social media, which was interrupted by Miriam passing wind.
"I've just farted, sorry," she said, before admitting that it smelled.
"I was slightly downwind of that one Miriam, I'm not going to lie!" Holly said. "A little oniony tinge to it," she added, referring to the fact Miriam had been eating her favourite snack – a raw onion – earlier in the show.
"That's made me go really hot!" Holly joked.
This Morning airs weekdays at 10am on ITV1.