Liron Rokah and Zohan Arad's lives were transformed Saturday when Hamas terrorists launched a surprise attack on the music festival they were attending in southern Israel. Immediately after escaping, the couple reported for duty with the IDF.
"We realized that we want to help our friends," Arad told FOX News on Thursday. "We have a lot of friends who never came home [from the party]."
"They just came to listen to music and to celebrate the freedom of life and to just enjoy with friends, and they will never come back home," Rokah chimed in. 
RELATIVES OF LOVED ONES KILLED, KIDNAPPED BY HAMAS PLEAD FOR HELP: 'THE WORLD HAS TO STEP UP'
"We have a lot of friends that are now in Gaza. We don't know what happened to them. Hamas is not telling who is kidnapped and what is their situation, and we just pray for them and that they will come back home safe."
Rokah and Arad were among the first festival goers to reach their vehicle when Hamas terrorists set the surprise attack into motion, launching rockets into residential areas and opening fire on civilians. 
A few minutes after the couple fled, gunshots sounded in their direction.
SISTER OF ISRAELI SOLDIER SENDS MESSAGE TO HAMAS: IF THEY THINK THIS WILL BREAK US THEY ARE 'SO WRONG'
"I heard the sound of a gunshot, then I looked into their eyes and saw a terrorist. He was 7-8 meters [approximately 22-26 feet] away from us and started shooting people from the party," Arad said. 
"At that moment, I'm shouting to Liron, 'They are shooting at us! They are shooting at us!'" she recalled.
Immediately after escaping, the couple reported for reserve duty in the Combat Engineering Corps' reserve battalion –  a division that, according to the IDF's website, is responsible for "dismantling minefields," "building bridges to cross streams," constructing fortifications and more. 
Since war broke out in the Holy Land last weekend, the death toll has climbed to over 2,400 total, including approximately 1,200 Israelis and at least 25 Americans.
NETANYAHU SAYS 'HAMAS IS ISIS' AS ISRAEL PREPARES FOR GROUND INVASION OF GAZA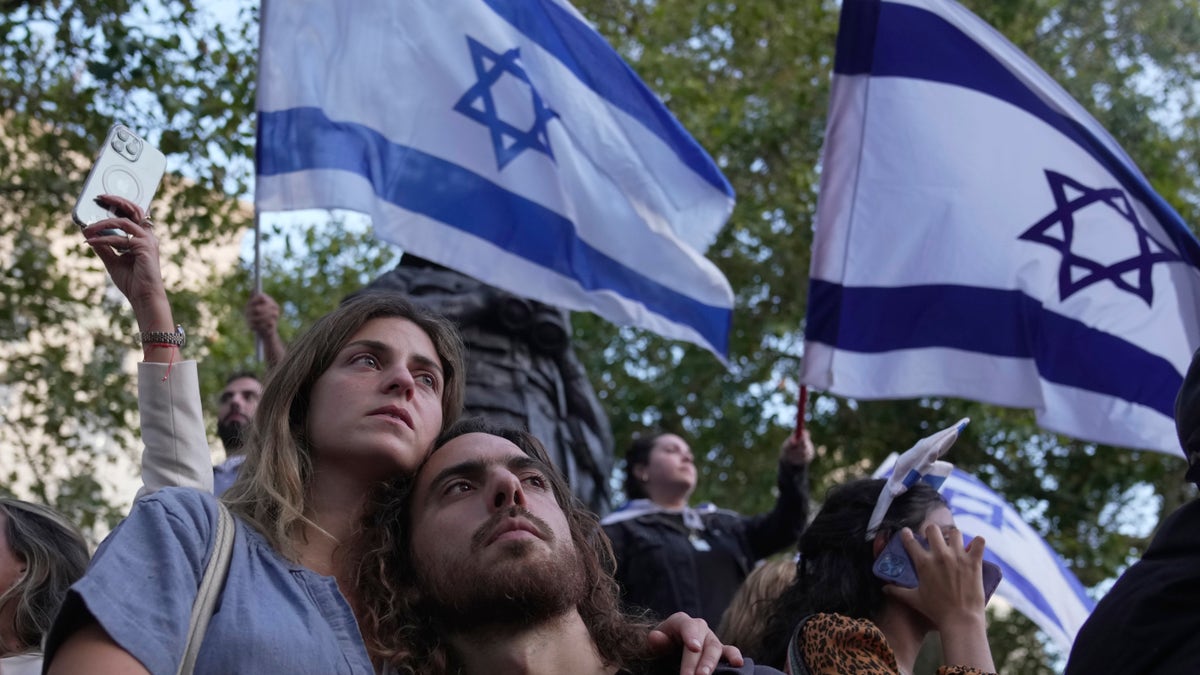 The same day the Israeli cabinet declared war and the region remains embroiled in conflict. Meanwhile, the Biden administration reiterates its support for Israel, with the president himself saying America "has Israel's back" as the country reportedly prepares for a ground invasion of Gaza.
Secretary of State Antony Blinken met with several Israeli officials early Thursday, including Prime Minister Benjamin Netanyahu and President Isaac Herzog to show solidarity with the nation as war rages.
For more Culture, Media, Education, Opinion and channel coverage, visit foxnews.com/media.
FOX News' Brandon Gillespie contributed to this report.