I rush from a doctor's visit and ditch a lunch date with my husband to go to the Tennessee State Capitol.
It's 12:50 p.m. on Monday, August 21, and the second day of the special session on public safety. Tennessee Gov. Bill Lee called this session after The Covenant School shooting. He was friends with two of the victims.
I hastily swing my car into the nearest parking spot and throw on the only red T-shirt I own. It's the official color of support for Moms Demand Action, a gun control advocacy organization. My palms are sweaty as I walk into the Cordell Hull government building.
Five minutes later, I'm sitting in a crowded committee room waiting to listen to the House Civil Justice Subcommittee. Deep breaths, in and out. I haven't eaten all day. It's 100 degrees outside, and it feels just as hot in this room. I wonder if I will pass out.
People are everywhere. The three rows in front of me are filled with elegant, put together women who look poised and calm. I am not poised; I am far from calm.
Like me, many of the people in this room are disheartened that our lawmakers have done nothing to keep our state safe from gun violence. But we're here to hold our lawmakers accountable.
I settle in amongst people from the Tennessee activist group Rise & Shine. Deep breaths, in and out.
I hear them gavel into order, and State Rep. Lowell Russell, a Republican, demands that everyone put down their signs. I do not.
Since April, I have felt helpless and unable to get through to lawmakers, and this sign is the one way I feel I can express what matters to me. I have always been a rule follower, so this feels out of character—but everything in my body demands that I make this choice.
My heart begins to race, and my vision is blurry. But I am steadfast; unwavering. Everyone is staring at me now. I'm shaking, but I try to steady my eyes straight ahead. I may not be an attorney, but I know what my constitutional rights are, and this is a flagrant violation of the First Amendment.
This is my introduction to the American legislative system.
The Covenant School Shooting
I was at home in Nashville, Tennessee, on March 27, 2023 cleaning out my garage when I read on social media that The Covenant School had an active shooter. I started sobbing and praying for God to protect these children and staff.
I texted my friend who had a third grader at Covenant to see if her son was OK. I didn't hear anything back for a while; I spent most of the day not knowing if her son was dead or alive. Later that day she texted me to tell me he survived.
But his life, and so many others' lives, were forever changed by this event.
It hit way too close to home. My son and his classmates are terrified. They understand that children their age were slaughtered 10 miles away. They understand that when we send them off to school there is no assurance that they are coming home. Or their friends. Or teachers.
This is way too much to put on nine-year-old children.
Every child deserves the right to be able to go to school without fear of being killed. It seems so simple, but this is what we are currently fighting for in Tennessee, and across America.
After the shooting, I showed up at the Capitol with thousands of other Tennesseans to stand up to protect our children. Following days of protesting to make our voices heard, we left in shambles.
Our governor and local legislative bodies did not acknowledge our concerns. Their constituents begged for laws that would protect our children. They did nothing.
And they silenced us by throwing out three duly elected officials from the House of Representatives who chose to amplify the voices of Tennesseans.
The three Democratic lawmakers who spoke up—Justin Jones, Justin Pearson, and Gloria Johnson—were expelled from the House. Their crime was using a microphone to amplify the demands of Tennesseans in the gallery above.
This was only 10 days after the massacre of six people—three of them the same age as my own child. These lawmakers were back to business as usual, before the Covenant families had buried their loved ones. It was shameful.
In April 2023, I watched these sickening proceedings from my house. It was hard to believe I was watching something in America, much less my own city. It frightened me. I felt helpless.
I heard of a local volunteer organization, Rise & Shine, that was working diligently to protect our kids. When the special session was announced, I filled out a volunteer request form.
One of the roles was to observe the House and Senate floor sessions for reasons of accountability. I signed up to be in the meeting room on August 21.
Tennessee Special Session
I didn't know anyone when I walked into the room that day. The session was supposed to start at 9 a.m., but the lawmakers had gradually pushed it back until 4 p.m.
I would later come to see this as one of their tactics. They would wait until they knew the mothers would be leaving to pick up their kids—the very kids whose lives they were charged with protecting.
When the legislators finally did go into session, Speaker of the House Cameron Sexton, a Republican, announced a set of new and oppressive rules—including that we couldn't bring signs into the people's house. They were trying to muzzle grieving parents.
When the House Civil Justice Subcommittee gavels into order and everyone is told to put down their signs, I sharply whisper to the woman beside me: "Are we going to lock arms?"
I assume that people will contest this gross misuse of power and continue to hold their signs, but everyone in the room quietly lays down their First Amendment rights, except for Erica Bowton, Maryam Abolfazli and myself.
Erica and I were sitting a few seats down from each other. Neither one of us had talked about holding our signs up. It was spontaneous, and what we both felt was necessary in our hearts.
I sit there and continue to hold my sign that says: "1 KID>ALL THE GUNS". I'm really shaking now. I look ahead and notice that some of the lawmakers, particularly the older white men, are clearly not used to quiet acts of civil disobedience, much less from a quiet, middle-aged white woman.
There is confusion all around, but I feel brave and emboldened sitting in a room with many powerful women. The Tennessee Highway Patrol is ordered to escort me out. I stare straight ahead, shaking, seething. But I don't move an inch.
The lawmakers seem shocked that someone is quietly pushing back on their rules. I have no plans to speak; I just want to quietly hold my sign. My eyes are fixed straight ahead.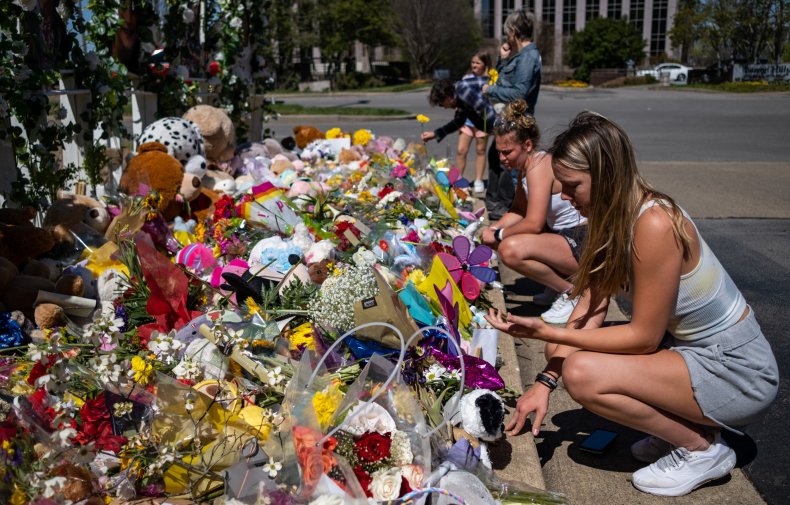 That's when I blurt out the words my heart can't restrain any longer: "And deny us our First Amendment rights? We have rights to hold a sign. I'm not leaving. If you have to drag me out, so be it."
I sling my bag over my shoulder because I'll need my phone and wallet if I'm arrested. I dig my fingers into my chair and snake my legs around it. They will have to drag me out.
The Tennessee Highway Patrol officer comes up to me and quietly says: "I'm not going to hurt you, I'm going to put my arms under your arms to help you up."
I mumble: "I know, you are just doing your job."
His disarming behavior deescalates the situation to some extent. The THP officers are kind and respectful to me. I can't help but imagine this would have ended very differently for a person of color trying to do the same thing. The officers don't want to be in this situation any more than I do.
I decide to walk on wobbly legs and allow the THP to escort me out. As I pass the legislators who threw me out, I retort: "This is not what democracy looks like!"
I did not plan to say this. I did not plan to speak at all—until they tried to silence me.
It all took less than a minute. But in that moment, my life was forever changed. A room of strangers bore witness to the emergence of a new woman.
The raw, emotional video that went viral would mean that I had national media attention. This is a difficult thing for an introvert, and for someone who has spent their entire life just trying to quietly do the next right thing.
Here for the Kids
Up until that point I had lived a quiet suburban life. I have two kids in elementary school. I'm always the room mom in my children's classroom, the mom who volunteers for school field trips. I'm active in my local church.
I'm a college-educated woman who has spent nine years at home, raising children. My youngest child went to kindergarten last year and I've been quietly spending time over the last year in introspection, seeing what the next chapter in my life will be.
My passion is writing, and I've been writing daily to process what's going on in the world. I've found ways to give back to the community, such as volunteering to help refugees and immigrants, and at local food shelters.
But I realized that I can make much more difference for all people and children by fighting for gun safety legislation.
Back to school started this month. We went through all the normal checklists: Folders, markers, crayons and pencils. A new request was made this year, from our PTO president, who is also a friend. She asked me to sew window coverings for all the teachers' rooms.
In our school, the teachers have a solid door to the hallway, with a thin glass window that is 6 inches by 32 inches. The windows aren't allowed to be covered all the time, but teachers need to cover them quickly and effectively when they go into lockdown.
I can't help but think about how this tiny piece of fabric is supposed to keep a bullet from spraying my child, their classmates and teachers. It seems so insignificant, paltry, lacking. I know the fabric isn't enough. I must do more to protect our youngest citizens.
Countless women have hugged, thanked, and encouraged me since the special session. One was Shaundelle Brooks. I hugged her tight and told her that I did it for her sons.
One son, Akilah, was murdered in 2018 at Waffle House in Nashville, and another was shot in the head, just four months ago. This woman has so much grief, I don't know how she gets out of bed in the morning. She's a warrior, a fighter.
I did it for the mamas who are working two or three jobs and they don't even know what's going on right now at our state Capitol because they are living paycheck to paycheck. I'm here for Evelyn, Will, Hallie, Mike, Katherine, and Cynthia. Let their deaths not be in vain.
I'm here for the survivors of gun violence. I'm here for my kids. I'm here for your kids, too.
Fighting Gun Violence, Defending Democracy
I am so thankful that I have found the most supportive and kind network of women. They're some of the fiercest women I've ever met. I'm proud to link arms with them—Erica Bowton, who also kept her sign up, and Maryam Abolfazli, who held up her sign and walked out after Erica.
The three of us have since filed a lawsuit with the ACLU to protect our freedom of speech. A local judge has granted a temporary injunction, which has allowed us to hold up our signs during this special session, and express our freedom of speech.
Mothers in America are at a tipping point after bearing the brunt of so much during a global pandemic.
We have done all the things for so long, but when you ask us to idly stand by and watch our children be massacred in schools, and to hold up friends whose children are survivors of gun violence, you have gone too far.
We are tired; we are weary; but we are not weak. We will muster the courage and the energy to stand up and fight for what is right, and to protect our children.
You will find me at the State Capitol, trying to make our community—and country—a safer place to live, and defending democracy along the way.
I showed up to talk about gun safety legislation, but it turns out we can't have that conversation until we live under a functioning democracy–and now, in Tennessee, democracy is on life support.
I implore lawmakers to stop this tomfoolery and do something. In words from the apostle Paul, "Faith without works is dead." James 2:26.
Allison Polidor lives in Nashville, Tennessee with her husband and two elementary-aged children. She is a writer and advocate for children.
All views are the author's own.
Do you have a unique experience or personal story to share? Email the My Turn team at myturn@newsweek.com.