A viral video comparing a dog on the first day he arrived at an animal shelter with how he looks now, after being there for over 400 days, is breaking hearts online.
Moose is a four-year-old Great Dane who has been at the Benton Franklin Humane Society in Kennewick, Washington State, since July 2022.
Julie Saraceno is a volunteer dog walker at the shelter and visits every weekend. She shared footage of the 97-pound dog, comparing day one and day 401 of his stay at the shelter, and the results were hard to watch.
From day one full of excitement at the prospect of finding a new home, Moose then changes hugely in the time he has been at Benton Franklin Humane Society, looking withdrawn, sad and quiet.
"Over the span of time I've known him, he seems more and more excited to see people when he gets visitors. He's so grateful for someone walking by to show him affection and give him a treat," Saraceno told Newsweek. "He also seems sadder when you have to leave. He's really ready to get a break from shelter life with a new family."
With 950,000 views, the video she shared on TikTok has broken hearts, as people shared their reactions.
"Please please world find this big guy a home," wrote TikToker Lori E, while Tina Riegler said: "He deserves a beautiful home! I can't handle these videos."
Benton Franklin Humane Society is home to many cats and dogs looking for their perfect home. It is also where Snoopy, a dog who was in the shelter for 650 days, was filmed sucking on a blanket for comfort. The nine-year-old stray has now been taken to a new foster carer, where he is receiving plenty of love and care, but Moose is still waiting.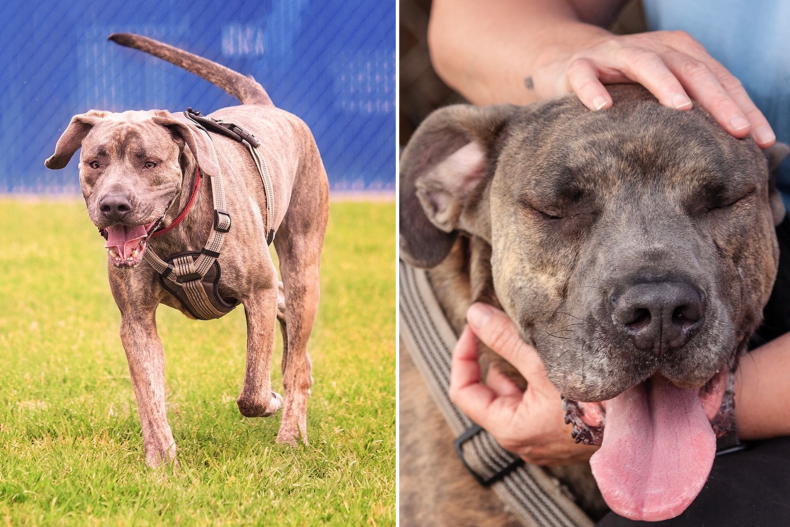 "Praying you find the loving home you so so deserve beautiful Moose, they are out there," wrote laurenkonrad4 on TikTok.
While Christiner said: "This hurts my heart sm," and Christopher Gamez wrote: "Sending all my good vibes to extra boost this video."
A lively and intelligent dog, Moose needs plenty of exercise and physical stimulation, but also loves to wind down on the couch at the end of a tough day.
Moose has had some interest, including a meet and greet earlier in the week, but sadly things didn't work out.
"They have a large dog so unfortunately that isn't the right fit for him," explained Saraceno. "Moose prefers to be an only pet, but he could be in the home with a small dog or puppy. I think because of this requirement it's tough to find him the perfect home."
Do you have funny and adorable videos or pictures of your pet you want to share? Send them to life@newsweek.com with some details about your best friend and they could appear in our Pet of the Week lineup.