MSNBC legal analyst and former Manhattan Assistant District Attorney Rebecca Roiphe slammed New York Attorney General Letitia James' recent public condemnation of former President Trump outside of a New York City courtroom.
During a Thursday segment of "MSNBC Reports," Roiphe told host Ana Cabrera that James standing in front of cameras at a New York City courthouse and responding to Trump's attacks against her and other prosecutors on Wednesday was a "tactical error."
"She should have remained silent and allowed him to open himself up to these sorts of arguments by others," Roiphe said in response to James' claim that Trump was using the court case for a "political stunt."
CALLS MOUNT FOR 'HOUSE SPEAKER DONALD TRUMP,' AS LAWMAKER CLAIMS HE CAN BEST 'UNITE' GOP
James made waves Wednesday when she spoke to the press outside a New York City courtroom following day three of the civil fraud trial against the former president. She blasted him, saying, "Trump's comments were offensive. They were baseless. They were void of any facts and/or any evidence."
"What they were, were comments that unfortunately fomented violence, comments that I would describe as race-baiting, and comments unfortunately, that appeals to the bottom of our humanity," she claimed.
James added that the court is simply investigating Trump for "fraud" and claimed she "will not sit idly by and allow anybody to subvert the law." 
Earlier this week, Trump blasted those who have brought the civil case against him, which alleges he inflated his net worth to obtain more favorable loans. He said, "They made up a fake case, they're fraudulent people. And the judge already knows what he's going to do. He's a Democrat judge. In all fairness, he has no choice."
JIM JORDAN ANNOUNCES BID FOR HOUSE SPEAKER AFTER MCCARTHY OUSTER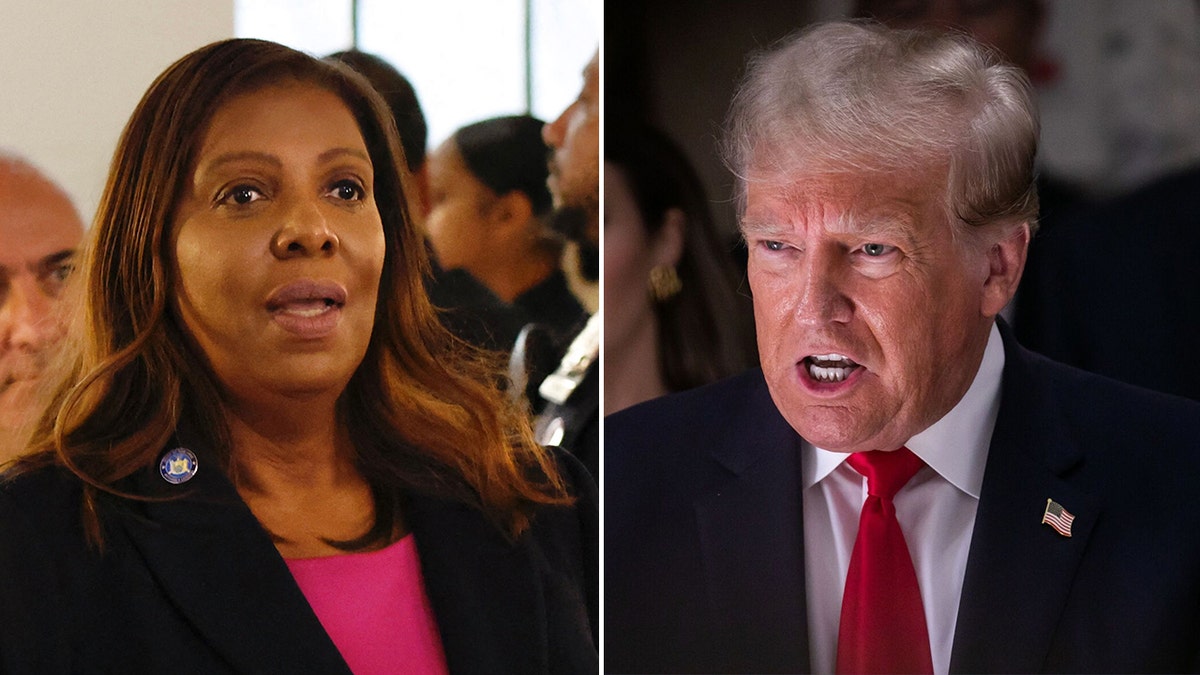 The attorney general concluded her message to the press, declaring, "I will not be bullied, and so Mr. Trump is no longer here, the Donald Trump show is over. This was nothing more than a political stunt."
After Cabrera played the clip for her guest, Roiphe gave her assessment that this was the wrong move for James who has been accused herself of using the trial in a political fashion. 
The analyst said, "I think this was a tactical error on the part of Attorney General James. She is already vulnerable to the repeated attacks that this is politically motivated, even if it is not, she opened herself up to that by campaigning on the repeated statement that she was going to go after Trump."
"And therefore, I think this statement was not wise," she continued, adding, "She should have remained silent and allowed him to open himself up to these sorts of arguments by others rather than stepping in right here."
Still, the former ADA acknowledged it's hard not to get baited into a response to Trump. She noted, "But that said, you know, it's very hard when there is a defendant like the former president, who plays to the media, to remain silent and not try to counter his message that he's delivering."  
James' office did not immediately respond to Fox News Digital's request for comment.
For more Culture, Media, Education, Opinion and channel coverage, visit foxnews.com/media