Netflix's Queen Cleopatra has been the focus of much controversy and backlash, not least because Egypt's most famous monarch has been portrayed as a Black woman in the four-part docudrama.
Adele James, a British actress who is of mixed race, stars as the queen in the Netflix production, which debuted on May 10. Jada Pinkett Smith serves as narrator and executive producer of the production, which is part of the African Queens series.
In promotional material from Netflix, Pinkett Smith is quoted as saying: "We don't often get to see or hear stories about Black queens, and that was really important for me, as well as for my daughter, and just for my community to be able to know those stories because there are tons of them!"
Many historians and experts on ancient Egypt disagree with Pinkett Smith, instead saying Cleopatra was of Macedonian heritage and likely fair-skinned. However, not everyone shares this view. Other scholars have argued that she may have had additional ancestries, and her complexion might not have been fair, given that her mother's identity and background remain disputed.
Officially named Cleopatra VII, the monarch ruled during the Ptolemaic Kingdom of Egypt from 51 to 30 B.C. Cleopatra's stature in popular culture grew thanks in part to Hollywood features, which often featured the queen being portrayed by white actresses such as Elizabeth Taylor and Vivien Leigh.
More recently, the debate about Cleopatra's appearance again flared up in 2020 when Israeli actress Gal Gadot was cast as the ruler for an upcoming project. People on social media complained that an Arab or African actress should have gotten the part, and Gadot defended her casting during a BBC interview in which she said a Macedonian actress was not available.
In the days since Queen Cleopatra was released this month, it has achieved one of the lowest ratings on Rotten Tomatoes, the review aggregation website. The docuseries currently holds a 15 percent approval rating among critics, while just 3 percent of the viewing public have shared positive reviews.
The Claim
A Twitter post purporting to depict Pinkett Smith's reaction to the controversy and poor ratings was shared on the platform on May 16 and subsequently went viral.
The post, which has been viewed more than 29 million times, included a link to an article headlined: "Jada Pinkett Smith Says 'White Supremacy' Responsible for Cleopatra's Terrible Audience Score."
"Jada Pinkett Smith says she blames 'white supremacists' for the flop of her new Netflix docudrama series, Queen Cleopatra, which has one the worst audience ratings in U.S. television history," read a caption from a Twitter user called Patricia Dickson.
The caption is taken from the opening paragraph of the article, which also claims: "As part of Jada's 'woke' crusade, she forced the show's producers to change the race of Cleopatra to match her own."
"Cleopatra was Greek, which means she was fair-skinned, not Black," the article quotes former Egyptian Minister of Antiquities Zahi Hawass as saying.
The remainder of the article includes an overview of the life of the real Cleopatra, as well as information on Egyptian lawyer Mahmoud al-Semary's recently filed lawsuit against over the production.
"Hollywood doesn't care about historical accuracy as long as the show is a hit among 'woke' audiences," read a line in the article, bylined to Sean Adl-Tabatabai.
To illustrate its statement that Queen Cleopatra "is a dud," a pair of tweets reacting to the low Rotten Tomatoes ratings were embedded into the article.
"It's time for Netflix to admit this stuff isn't working," read one embedded tweet from conservative commentator Sean Hannity.
The article concluded with disparaging Queen Cleopatra reviews from viewers. At no point was information shared to support the headline or opening paragraph. Pinkett Smith was not quoted at all in the article.
The Facts
While the article and its headline have sparked furor and spirited discussion among social media users, there is no evidence that Pinkett Smith ever made the statement attributed to her.
Egyptian lawyer al-Semary did, indeed, file a lawsuit over the docudrama. His April filing not only requested legal action be taken against the makers of the show but for Netflix to be shut down in Egypt.
"Most of what Netflix platform displays do not conform to Islamic and societal values and principles, especially Egyptian ones," al-Semary said in his complaint, according to the Egypt Independent.
The same publication also reported in April that former Egyptian minister Hawass was among those who voiced disapproval of the depiction of Cleopatra's race.
However, there is no information to support the claim that Pinkett Smith publicly blamed "white supremacy" for the reaction to Queen Cleopatra. To date, she is yet to publicly comment on the backlash.
Further, the article was published a website that is a rebrand of NewsPunch—an outlet that has been named by several reputable outlets as a prolific purveyor of misinformation and conspiracy theories.
YourNewsWire was founded in 2014 and rebranded as NewsPunch in 2018. The rebranded site continues to be credited for articles that are demonstrably false.
In 2017, Buzzfeed named NewsPunch as the second-largest source of popular fake news stories shared on Facebook that year.
In a June 2018 analysis by Poynter, NewsPunch was identified as having had articles debunked more than 80 times in 2017 and 2018 by fact-checkers accredited by the nonprofit media institute. These included such outlets as the Associated Press, PolitiFact, Snopes and FactCheck.org.
The European Union's East StatCom Task Force, formed by the European Council to provide information to the European Union and its member states on the extent of Russian disinformation campaigns, has previously accused the site of spreading Russian propaganda. NewsPunch co-founder Sean Adl-Tabatabai has denied the task force's accusations.
Newsweek has reached out to representatives of NewsPunch via email for comment.
The Ruling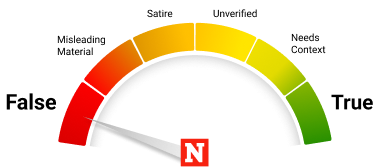 False.
There is no evidence that Pinkett Smith ever made the comment that has been attributed to her.
Further, the article that originated the claim does not quote Pinkett Smith, or provide any attribution as to where she would have purportedly made the comment.
While the false quotes have gained traction on social media, the website responsible for the article has been widely assessed as an outlet that has published multiple fake news stories.
The same outlet previously published an erroneous article stating that actor Mel Gibson had spoken of Hollywood elites of torturing and murdering children, before drinking their blood in satanic rituals. Gibson's spokesperson told Newsweek in March that this was "completely false."
Newsweek has reached out to a representative of Pinkett Smith via email for comment.
FACT CHECK BY NEWSWEEK