If Jascha Straub is Bugatti's Michelangelo, then the Chiron Super Sport 'Golden Era' is his Sistine Chapel. As the lead designer of Sur Mesure, the automaker's customization arm, Straub is responsible for making customers' dreams come to life.
That car, and Straub's role in its creation, started when he was a young boy living in southern Germany. His passion for Bugatti came quite early. "I would say I fell in love with the body," he told Newsweek at The Quail, a Motorsports Gathering during Monterey Car Week.
"I remember, first of all, with EB 110 era … [then] the modern Bugatti era came up. This was really the point where I started collecting car magazines, where I started to go by bus to car events, just to see Bugatti."
Straub's passion allows him to "breathe the brand", he said. "You understand also the history and you understand, let's say everything, everything about the brand, and you start to feel it." That makes him a passionate part of the Bugatti brand story.
That story, old and new, was the inspiration for Straub's team's newest creation. The idea for the 'Golden Era' car came from a customer who is "really enthusiastic about the brand," Straub shared. "He wanted us to do something very unique for him. We came up with several ideas, and one of the ideas was this, and he fell in love with it."
The one-off Chiron Super Sport features a unique body finish that allowed Bugatti's designers to sketch design moments from the company's history directly onto the vehicle. Straub considers the car, "the perfect embodiment of the Sur Mesure program."
Every bespoke project is an opportunity for a boundary to be pushed. New limits, new features, new finishes. But, that doesn't mean that the process is always easy. "We thought it would be easier than it actually was," Straub shared while motioning toward the sketch work on 'Golden Era'.
When the team realized it would be harder than it looked, it was time for Bugatti to prioritize. At the top of the list was that the sketches needed to look natural. Achieving that was a time-consuming process.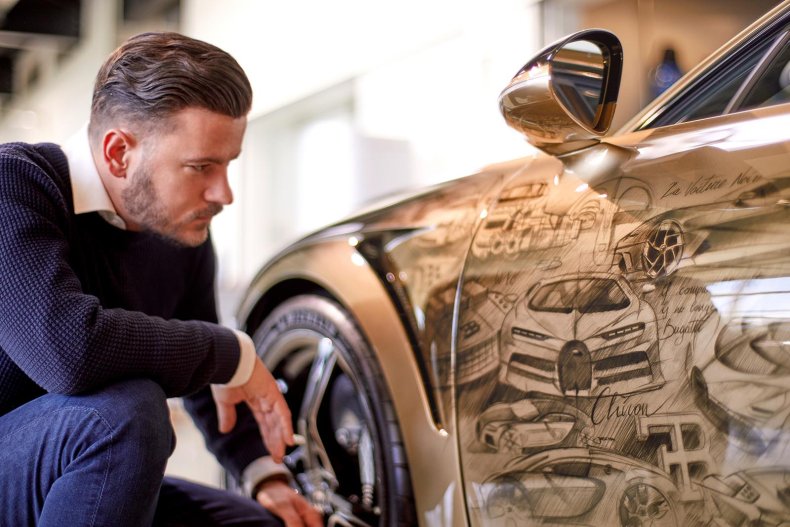 "First of all, there's the base color. Then, we have one layer of clear coat – this will be slightly sanded to make the surface rough enough that the pencil [carbon] holds there … So this was the first layer, which is not enough contrast, unfortunately. And then there's another layer of clear coat, again, slightly sanded. And then another layer of sketches."
Schaub says that it took sketching all the parts of each artistic element three to four times each, right on top of each other, each protected by a clear coat, to achieve the look seen today.
"It should look like three dimensional, but not everywhere the same … You have some lighter shading and shadows and highlights and that's actually only achievable with those different layers."
Schaub enlisted the help of multiple members of the team to create the sketches so while they have a cohesive look, they are truly the product of teamwork. Michelangelo didn't have that luxury. The solo Chapel artwork of today sits atop of work done by artists in the 1400s.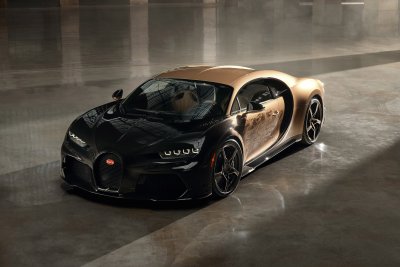 The history of automobile luxury is wound around the world of Bugatti. From its early racing and coachbuilding years to today's high-horsepower, luxuriously appointed street cars, there's something luxe at every turn, which the 'Golden Era' celebrates. Like the Sistine Chapel tells a multi-generational story, the car has images that represent other business interests of Bugatti over the years.
"It was also important for us to not only, let's say have the most iconic cars, we also have, especially on the other side, there's the furniture of Carlo Bugatti, because Bugatti was a family of artists," Straub shared.
"There's also the sculpture of Rembrandt Bugatti. And this makes the history complete, the whole story of the car, because this also reflects all the tragedy and everything that he went through also in the past. This was really important for us to bring all of that on the car."
This customization work is part of an ongoing trend. "If you look back like 15, 20 years ago, I think it was mostly enough to do a limited edition of like color and trim on a car, like 20 units, 10 units or something like this. But we see a trend coming up that this is not enough anymore," Straub said.
Like the commissioners of artwork in the Renaissance, Bugatti's customers are looking for unique pieces, highly customized that can bring pleasure and pride, and are instant status symbols.